"Adrift in Annapolis"
2014 Convention
'Adrift in Annapolis' Awaits Alger Adherents on May 1-4, 2014
By Richard B. Hoffman (PF-570)
Get ready to enjoy visiting a delightfully different kind of place—Annapolis, a compact, charming city right on Chesapeake Bay, suffused with a nautical air and 18th century surroundings.  It's my pleasure to welcome all Horatio Alger Society Partic'lar Friends and their guests to Maryland's state capital, on May 1-4, 2013, for the "Adrift in Annapolis" convention.  If this is your first time in Annapolis, you'll be experiencing an intoxicating mélange of sailing, 18th century atmosphere, great Chesapeake seafood, the oldest state capital building still in use, and, of course, the U.S. Naval Academy.
Attractions of Annapolis for visitors and Alger fans range from the Maryland Avenue antique store row to the City Dock where boat owners parade their craft down the channel known to the locals as "Ego Alley" right up to the old market square at the head of the harbor, as well as shops and museums of all kinds. Adjacent to the state capital, which is open to visitors, is St. John's College, famous for its curriculum featuring the Great Books of Western Civilization. 
Adding to the appeal of the city are the many pleasant restaurants featuring the wide range of preparations of the Chesapeake blue crab, and a host of stores, supply houses, and watering holes serving and frequented by sailors—both professional and recreational, along with the naval academy's midshipmen.  The central area is perfect for walking, and when you drive, you will find yourself passing picture-postcard views from bridges over the many small waterways running through the area, as well as the Severn River.
You can tour the U.S. Naval Academy merely by showing your ID to walk onto the grounds, but if there is sufficient interest shown during registration, we'll arrange a special tour of the Academy for Saturday afternoon.
The convention will be at the Hampton Inn and Suites, 124 Womack Dr., Annapolis, MD 21401, 410-571-0200.  We'll have a complimentary breakfast available there each morning and free WiFi in the rooms. 
Our room block will expire on St. Patrick's Day, March 17, 2014, so make your reservations early at the Hampton Inn & Suites Annapolis, 124 Womack Drive, Annapolis, MD 21401.  Call the hotel directly at 410-571-0200, and be sure to mention the Horatio Alger Society to get the special convention rate of $119 a night.  Soon, the special link Hampton Inn is setting up for us on the Internet will be available to book rooms.  The hotel is making available the special rate from Tues., April 30 through Weds., May 7, for those who want to spend more time in this delightful area.
The Hampton Inn is located outside the congested downtown Annapolis area, off a main thoroughfare, Riva Rd., which is right off both U.S. Route 50, the main highway between Washington, DC and the Eastern Shore of Maryland, and Interstate-97, which runs directly down from Baltimore. There's free parking at the hotel, so bring your car, as we will be having dinners at nearby restaurants, including Mike's Crabhouse on the South River and the Galway Bay pub on the Maryland Avenue antiques row right by the State House. The closest airport—22 miles away--is Baltimore-Washington International (known in the area as BWI), from which there is shuttle and taxi service, as well as car rental. Because BWI is served by Southwest Air, fares there tend to be priced lower than to and from the two Washington airports—Dulles (IAD) and Reagan National (DCA)—both somewhat farther away but accessible. Amtrak also has a stop at BWI Airport, on the busy Northeast Corridor rail route. If you are able to spend more time in the region, Annapolis offers a host of activities. It of course is "America's Sailing Capital", for those seeking to get out on the water, and there are many water tours as well as sailboats for rent. In the downtown area there are museums and historic homes galore to visit: in addition to the State House and the Paca House and Gardens, there are both the Annapolis Maritime Museum and the Historic Annapolis Museum, other historic homes and churches, and tearooms and taverns dating to the 1700s such as the Reynolds and Middleton Taverns, both of which are still serving victuals and libations. If you decide to make a more extended trip to the region, both Washington and Baltimore, with their many fabulous museums and historic sites, are each less than an hour's highway ride away, approximately 32 miles to Washington and 26 miles to Baltimore's Inner Harbor.
Full Books Available to Read in the Archive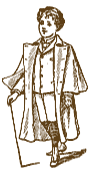 90 Titles Online
As work continues on the HAS website's Archive section, more and more of Horatio Alger's works are becoming available to read online for free. Click here to read the available titles.
The Full Books section now has links to every Horatio Alger novel currently available to read online. We are still missing 44 titles, which have not yet been converted to a digital format, but you can still visit their pages to find out where to buy a reader copy online. Short Stories and Poetry will be up soon as well, and Alger's essays are becoming available.