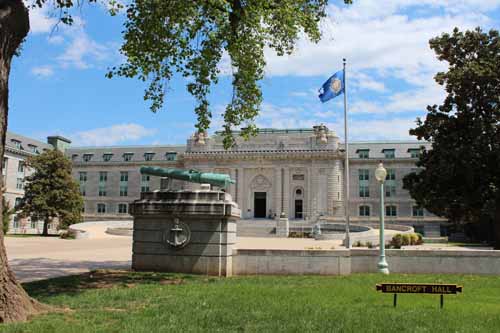 "Adrift in Annapolis"
2014 Convention Report
"Adrift in Annapolis," the Horatio Alger Society's 50th annual convention, is now history, with members and guests of the Horatio Alger Society visiting the historic capital of Maryland the weekend of May 1-4, 2014.
Convention host Richard B. Hoffman (PF-570) and H.A.S. President Barry Schoenborn (PF-1087) were there to informally greet their Partic'lar Friends as they arrived Thursday afternoon at the Hampton Inn & Suites just off U.S. Route 50 and a short drive from the 18th-century historic district of Annapolis, located on the Severn River.
The weekend included the auction of nearly 300 books and related items on Friday afternoon, including the Alger collections of longtime H.A.S. member William D. Russell of Hatboro, Pennsylvania, and the estate collection of late Partic'lar Friend Frank H. Jaques of Ada, Oklahoma, plus nearly 100 additional books and items consigned or donated by other members and non-members. The nearly 300 individual and group lots made an impressive sight when spread out on some dozen tables in hotel's conference room. This combined consignment and donation auction, which took some four hours under the direction of auctioneers Ed Mattson and Bob Huber, raised nearly $1,900 for the Horatio Alger Society.
Other major highlights of the weekend:
Strive and Succeed Award – During Saturday's annual banquet at the Galway Bay Irish Pub in downtown Annapolis, host Richard Hoffman introduced the 2014 recipient, Sandrita Borckhardt, a senior at Bullis School in Potomac, Maryland. This is the Society's annual award to a high school senior residing in the local area of the convention who personifies Horatio Alger's "Strive and Succeed" philosophy.
Sandrita's parents immigrated to the United States from Peru in the mid-1990s following terrorists' threats to the family. Her father told her: "We did not leave Peru for us, Sandrita. We did it for you and your brother, so that you two could have a stable and secure life and best education possible. Your future is what motivated us to come here." Sandrita is a highly motivated student leader at her school and has been involved in numerous activities. Outside of school, she worked as a camp volunteer at the Treatment Learning Center (TLC), an organization that works with special needs children aged 4 to 8. That experience led to Sandrita's desire to eventually become a pediatrician, so she will follow that path in college. She has been accepted to start her studies this fall at the University of Maryland, which has awarded her its Banneker/Key Scholarship. Sandrita's parents, Juan and Sandra Borckhardt, joined her at the banquet.
Annual H.A.S. awards: After the presentation of the Strive and Succeed Award, the Society honored its own with the following presentations:
• The Dick Seddon Award was presented by 2013 recipient Ann Chase to Betsy and Lee Allen (PF-977) of Stone Mountain, Georgia, frequent convention attendees, who regretfully were unable to attend this year.
• The Carl Hartmann Luck and Pluck Award was given to Wendy and Bob Sipes (PF-1967), as hosts of the highly successful 2013 convention, "Race to Indy."
• Outgoing president Barry Schoenborn presented the President's Award to Chris DeHaan in recognition of her 16-year tenure as Horatio Alger Society treasurer.
Election of officers: Accepted by the nominating committee at the May 1 Board of Directors meeting, and nominated on and voted by acclamation at the following day's business meeting, were: for President, Jeff Looney of Charlottesville, Va.; for Vice President, Richard B. Hoffman of Washington, D.C.; both for two-year terms; and for three-year terms as Directors were Marlena E. Bremseth of Purcellville, Va., James King of Plantation, Fla., and Joseph Strang of Huntington, N.Y. Due to Hoffman's move to Vice President, outgoing director Robert M. Petitto of Carol Stream, Ill., volunteered to remain on the board to fill the remainder of Hoffman's term. Outgoing President Barry Schoenborn agreed to accept appointment as new H.A.S. treasurer, replacing Christine DeHaan (PF-773) of Wayland, Mich., who retired from that position following 16 years.
Speakers and presentations: On Friday, May 2, the following three presentations were made to the membership in the hotel's conference and meeting room:
• Ed Mattson (PF-067) gave a full demonstration on how to clean and care for books, showing the materials he regularly uses in his bookselling business. He had examples of typically soiled and "shaken" cloth- and leather-bound books, and showed how they can be brought back to life with proper patience and care. Ed brought a supply of chemicals and other cleaning materials to sell to members at cost.
• Bradford S. Chase (PF-418) followed with the formal introduction of his new book, Small Horatio Alger Books Published by Thomas D. Hurst, using PowerPoint Slides to show various cover designs for the small books, incorrectly labeled for decades as "Hurst miniatures."
• Newsboy editor Bill Gowen (PF-706) followed with the latest in his series of audio-visual presentations about lesser-known authors of juvenile books. His talk was titled "Jack Bechdolt and The Barrow Brothers Series," and it covered not only that boys' series, but the wide selection of other books Bechdolt wrote over the first half of the 20th century, including a large number of picture books for young people illustrated by his wife, Decie Merwin.
Keynote address: The Saturday banquet keynote address was presented by Peter C. Walther (PF-548), whose topic was titled "Horatio Alger, Jr. and William T. Adams [Oliver Optic], a Professional Relationship," Earlier in the evening, Walther also was winner of the annual Horatio Alger trivia quiz.
Also during the banquet, incoming president Jeff Looney introduced special guest Michael Dirda, a resident of Silver Spring, Md., and 1993 Pulitzer Prize recipient while a book critic/reviewer for The Washington Post. Dirda, named an honorary member of the Horatio Alger Society, is working on a book tentatively titled The Great Age of Storytelling, in which he wants to include Alger among the most influential writers of the late 19th-early 20th centuries. He received from Looney a copy of Alger's Ragged Dick, along with an H.A.S. membership plaque.
The 2015 convention: Bob Huber (PF-841), who hosted the very successful 2011 convention in Canton, Ohio, volunteered to host the 2015 convention in the Ohio state capital of Columbus, most likely to be held the weekend of April 30-May 3, 2015. The membership voted unanimously to accept this offer during Friday's business meeting.
Naval Academy tour: On Saturday afternoon, members of the Society and their guests took part in a two-hour walking tour of the United States Naval Academy, led by a very knowledgeable guide, David Hanner. Our group visited several major buildings on the grounds, including Bancroft Hall, the large dormitory housing the entire Brigade of Midshipmen, which also includes Memorial Hall on the second level honoring our Navy heroes of the past. We also visited the historic drill hall and the modern indoor athletic complex, along with the marble crypt in the Naval Academy chapel's lower level, holding the remains of the legendary John Paul Jones, "Father of the American Navy."
Other activities during the weekend included visits to area shops and bookstores, along with Friday's informal dinner at Mike's Restaurant and Crab House, located on Annapolis' scenic South River.
Full Books Available to Read in the Archive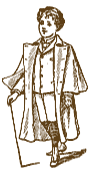 90 Titles Online
As work continues on the HAS website's Archive section, more and more of Horatio Alger's works are becoming available to read online for free. Click here to read the available titles.
The Full Books section now has links to every Horatio Alger novel currently available to read online. We are still missing 44 titles, which have not yet been converted to a digital format, but you can still visit their pages to find out where to buy a reader copy online. Short Stories and Poetry will be up soon as well, and Alger's essays are becoming available.